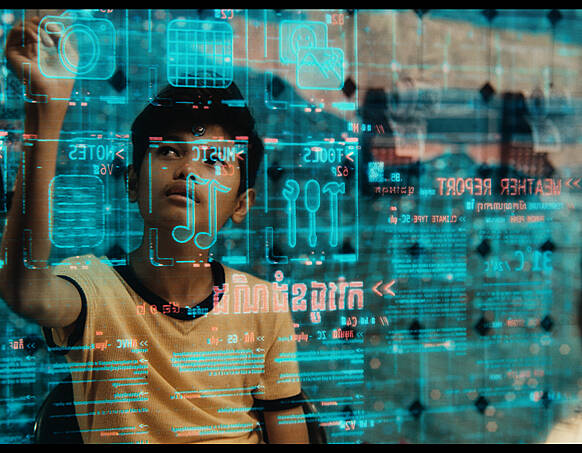 June 3rd 2021
XYZ Films, LevelK board Cambodian sci-fi 'Karmalink'

Share this
XYZ Films and LevelK are joining forces for the first time to work on Cambodian sci-fi feature Karmalink. LevelK will handle international sales while XYZ represents North American rights.
Jake Wachtel makes his feature directorial debut on the film, described as a "Buddhist sci-fi mystery". The story follows a 13-year-old boy and his detective friend searching for a gold statue from the boy's past lives, while navigating a high-tech, near-future Cambodia.
Los Angeles-based Valerie Steinberg produces for Valerie Steinberg Productions. Co-producers are Cambodian director-producer Sok Visal of 802 Films, as well as Christopher Rompré of Little BIG Films. Todd Brown and Nate Bolotin of XYZ serve as executive producers, and Christopher Seán Larsen and Monica Palmieri serve as associate producers.
Wachtel started developing the film in 2015, while teaching a year-long course in filmmaking to youth in Phnom Penh. He cast two former students as his leads and shot the film on location after living in their community for much of the next three years.
In addition to the young non-actor leads, the cast includes Cambodian actors Sveng Socheata (First They Killed My Father) and Rous Mony (The Prey), as well as Sahajak Boonthanakit (Only God Forgives) and Cindy Sirinya Bishop (The Crown Princess).
Todd Brown, head of international acquisitions at XYZ Films, said: "XYZ has a long-standing focus on striking and unusual voices from around the globe, and the moment I saw the first test footage that showed the work Jake Wachtel was doing with children in Phnom Penh, I knew there was the potential for something truly special. The vision of the future in Karmalink captures a completely different perspective from what we normally see, one that we believe will be exciting to audiences around the world, and we're thrilled to work alongside a partner as strong as LevelK to bring it to them." Read the full exclusive in Screendaily.