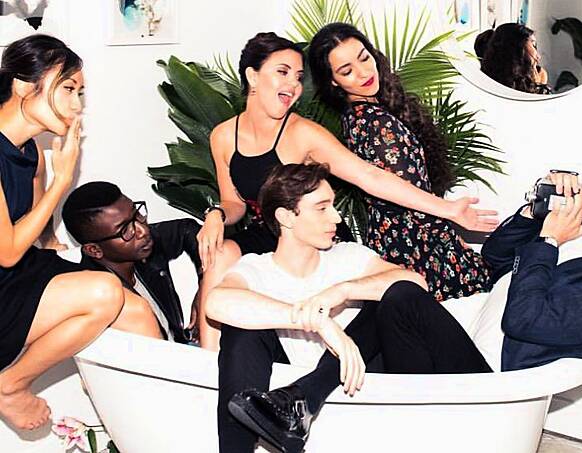 September 14th 2017
TIFF: 2017's Rising Stars

Share this
Featured in TIFF.net  on Sep 11, 2017
Nine emerging actors explain how they navigate their careers in a rapidly changing industry
Every year, the Toronto International Film Festival hand-picks actors who represent the best and brightest performers in the Canadian film industry. They participate in an intensive programme run by TIFF, in collaboration with the CSA. This year's crop, which boasts three Canadians and four international Rising Starsfrom France, New Zealand, England, and the United States, includes some of the most dynamic performances you'll see at the Festival. From Kathleen Hepburn's Never Steady, Never Still, Canadian actors Théodore Pellerin and Mary Galloway absolutely captivate as a young man questioning his sexuality and a pregnant grocery store clerk with an uncertain future. (Their chemistry is electric in a beautiful scene towards the end of the film, shot in a car in merely two close-ups.) Meanwhile, actor Ellen Wong — who played Knives Chau in Edgar Wright's Toronto epic Scott Pilgrim vs. The World and is currently on the Netflix series GLOW — is a force to be reckoned with.
We reached out to all the Rising Stars to get their thoughts on how they like to collaborate with other filmmakers, whether doing a red carpet fills them with dread or anticipation, and to describe a performance in a TIFF film that has inspired them. T
How did you feel when you found out you were named a TIFF Rising Star?
Mary Galloway: Being named a TIFF Rising Star means being given the opportunity to show the world what I've got — something I've been working towards with all my might for years! Getting to meet some of Canada's and the world's greatest filmmakers means the world to me.
Théodore Pellerin: It's beautiful to be endorsed that way by the Festival. A lot of actors I love have been named Rising Stars, so it's an honour to be a part of the program.
Tell us about the movie that got you selected for the Rising Stars programme. What was the process of developing your character like?
Mary Galloway: My film at TIFF is called Never Steady, Never Still. It is one of the most cinematically stunning films I've ever seen. The writer-director Kathleen Hepburn was an absolute pleasure to work with. She allowed the process of developing the character of Kaly to happen very organically. She asked a lot of thoughtful questions that would help me discover little, subtle details about her I might not have discovered on my own. I loved Kaly's big heart and quiet courage, and I wanted to fiercely protect her innocent optimism. I absolutely related to Kaly. Shooting the film felt a bit like I had traveled back in time to high school, rediscovering how to navigate new friendships and relationships.
Théodore Pellerin: Never Steady, Never Still tells the story of Judy, a mother who grapples to keep control of her life in the face of advanced Parkinson's disease, while her son, Jamie, travels to the isolating world of the Alberta oil fields and battles his identity. I don't think you get to work with a director such as Kathleen Hepburn very often, who's so open to listening as well as being in complete control of the story she's telling. I've rarely been so moved by a script as I was by this one. The first time I read it, it felt like Jamie was already in me and to get to be him was a gift.
What is your process like as an actor? Do you like doing research and asking a lot of questions? When do you rely on training, and when do you rely on instinct?
Mary Galloway: My process as an actor is always evolving and growing. Depending on the role, I'll research for hours on end or it'll come organically. Long discussions are always great! I think I rely on my training, so I'm able to trust my instincts.
Théodore Pellerin: I'm still very much learning about how I approach a story and a character. It depends on who the director is — how she or he likes to work. Then I try to let myself go towards what I feel I should do. I have to relearn how to work every single time, and that's part of what's interesting. There's no feeling of security. It's terrifying, but so much fun.
How do you feel about the business of promoting your work? Red carpets, photoshoots, step-and-repeats, fancy parties, conducting media interviews... Do these things fill you with dread, or excitement and anticipation?
Mary Galloway: At first, I dreaded self-promotion. Then I took a "Business of Acting" class by John Emmet Tracy at the New Image College of Fine Arts, and he taught me how to have an appreciation for that side of the job. I love a good challenge, so interviews, red carpets, and photoshoots are definitely that! It takes guts to put yourself out there as your genuine self. In that way, it's more nerve-racking than acting.
Théodore Pellerin: I'm happy to promote a movie I care about. This stuff is part of the deal. I try to surround myself with people I love so I don't feel abandoned in that craziness. But you can't be present if you're obsessed with yourself and your image. "Stay away from the vanity" would be my advice.
What's a role you would (probably) never get cast as that you are dying to play?
Mary Galloway: A role I'd kill to play is a badass, ass-whooping superhero, or a vigilante. I tend to get cast as vulnerable characters who need rescuing. Don't get me wrong: those are some of the most interesting characters to play! But there's a part of me who would love to surprise people.
Théodore Pellerin: I like to be surprised by what comes my way. I'm drawn to characters who make sense to me and are more alive than I am. I'm also drawn to stories that move me and I can't really predict what they'll be.
Describe a performance in a TIFF film that really inspires you. What do you love about this performance and why?
Mary Galloway: Brie Larson in Room. I really loved how raw the entire film is, including Brie's performance. She was so authentic and real, and if I can ever achieve that level of skill I'd be ecstatic.
Théodore Pellerin: Anne Dorval's performance in Mommy is one of the most powerful and moving I've seen. She takes us through the film and we can't take our eyes off her. We never get bored of watching her live and breathe, and we feel everything she feels.
As a local actor, do you feel protective of your industry? Do you think now-famous Hollywood actors (such as Rachel McAdams, Ryan Gosling, as well as Rising Stars alumni Tatiana Maslany and Sarah Gadon) have a responsibility to keep making movies in Canada and working with local directors?
Mary Galloway: I feel extremely protective of the industry in Canada. In a lot of ways, I've moved to Los Angeles in hopes of doing Canada proud. I do think it's a responsibility for the now-famous Canadian actors to bridge the gap between American and Canadian cinema. Canadian filmmakers and performers are all links in a chain, and we rise together.
Download the Never Steady, Never Still Press Kit here