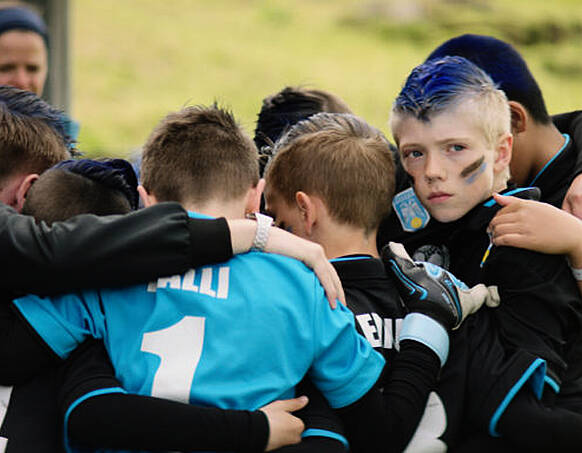 August 8th 2018
The Falcons featuring Icelandic football stars is set for digital release

Share this
The family football feature film The Falcons has been released for online streaming in several countries in relation to the World Cup and Iceland's participation.
The football theme isn't the only thing connecting the film to the World Cup. Iceland's goalkeeper Hannes Thor Halldórsson that saved the penalty kick from Lionel Messi in the weekend edited the trailer for The Falcons and was set to direct the film, until his schedule changed when he was offered a spot on the national football team.
The film is digitally released in the UK, US, Ireland, Canada, and New Zealand and is available on streaming sites as iTunes and Google Play.
Other football stars casted for the film includes the captain of the Icelandic National team Aron Einar Gunnarsson, Hermann Hreidarsson a former player of the national team, and Margrét Lára Vidarsdóttir, who is Iceland's all-time top scorer in the women's national team.
Recently, the film has been acquired for Germany (Studio Hamburg), China (Jushi Films), and Poland (Vivarto). Locally, The Falcons is already a hit, attracting over 10% of the nation's population in box office.
The film follows Jón (10) and his teammates as they travel to Westman Islands, a large island off the south coast of Iceland, to take part in a large football tournament held every summer.
The tournament plays a fundamental part in the early development of Icelandic football players, and most of the Icelandic national team players have participated on the Westman Islands at a young age.
The Falcons is produced by Anna Vigdís Gísladóttir and Thorhallur Gunnarsson for Sagafilm and directed by Bragi Thor Hinriksson. Backers include RUV, the Icelandic Film Centre, Iceland's Ministry of Industries and Innovation, and Creative Europe.
Published in Screen on June 22nd, 2018. Read the exclusive here
Download the The Falcons Press Kit here