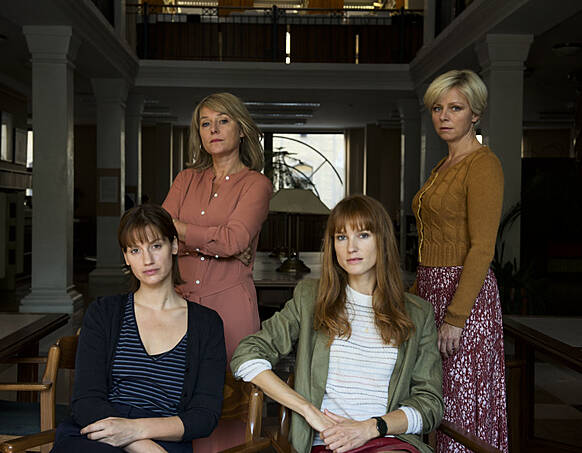 August 30th 2018
The Exception starring Sidse Babett Knudsen starts shooting

Share this
Manipulation, death threats, and complex characters form the plot in the new nerve-wracking Danish thriller THE EXCEPTION that went into production yesterday.
Danish director Jesper W. Nielsen has begun shooting "The Exception" with a star Danish cast including Sidse Babett Knudsen (Westworld, Inferno), Danica Curcic (The Mist, Silent Heart), Amanda Collin (A horrible Woman), and Lene Maria Christensen (Terribly Happy, The Legacy).
Production company Fridthjof Film announced today that Swedish actor Magnus Krepper (Becoming Astrid, The girl who played with fire) and Danish Olaf Johannessen (The Killing, The Bridge) has joined the cast list.
The nerve-wracking thriller, based on hit novel by Danish author Christian Jungersen from 2004, follows two young women that work in a small NGO in Copenhagen specializing in genocide and crimes against humanity. When they start receiving death threats their suspicion quickly turns to a Serbian war criminal, but as tensions mount amongst the women, they begin to suspect each other.
Christian Jungersen's novel sold more than 200.000 copies in Denmark and has been released in 20 countries worldwide getting international recognition. The script is adapted by Christian Torpe.
LevelK will pre-sell the film at this year's TIFF industry.
The Exception is shooting in Budapest, Hungary until September 13 and will finish production in Aarhus, Denmark October 11 with an expected local theatrical release during the fall 2019. Local distribution is handled by SF Film.
Marcella Dicmann, Mille Bjørke and Miriam Nørgaard produce the film for Fridthjof Film with Ronnie Fridhjof as executive producer. The film is financed by The Danish Film Institute, DR, West Danish Film Fund, Creative Europe Media, and Nordisk Film & TV Fond.
Published in Screen on August 29th, 2018. Read the exclusive here