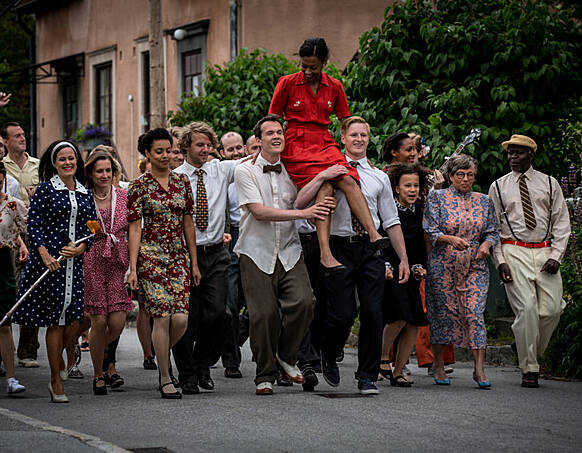 August 8th 2018
Swedish dance drama swings into the world

Share this
New feel good Swedish dance drama FEEL THE BEAT that is taking on swing from the thirties is ready for worldwide release with international sales and distribution outfit LevelK.
Let's swing!! Back in the twenties, the first dancers named it Lindy Hop – a dance combining elements of both partnered and solo dancing by using the movements and improvisation of African-American dances along the formal eight-count structure of European partner dance. Now the dance is more commonly known as being part of the swing family and mostly seen in small communities, especially in Sweden.
Feel the beat takes you on a journey of fun, dance, and music in the intriguing story about Adam, who decides to learn how to dance after his wife gets in a tragic car accident to reconnect with her while she is in a coma. Adam joins the Lindy Hop dance community, but soon finds out that his wife has been cheating on him all along.
"I have based the characters on Jung's archetypes and each character has a symbolic meaning. Adam's life chafe. A life seen through a grayscale. The Dance Scene becomes a contrast. It is styled with strong red colors and sense of magic light. As in a contemporary saga. Dream sequences full of dancing are created with a particular lust, that leads the minds to movies from the 1930s and 1940s, the time when Lindy Hop and other swing forms were created." – Rikard Svensson
Cast includes Rikard Svensson, Anna Sise, Hilderun Gorpe, and Magnus Krepper.
Local premiere is July 26th 2018 by TriArt.
The film is directed by first-time feature film director Rikard Svensson and produced by Rikard Svensson and Annette Stavenow Eriksson for Golden Road Pictures.
The film is financed by Storytel, StoneGate Productions, Dan Nilssons Skogsentreprenad, Joseph Lahyani, Thorbjörn Sallén, John Agerholm and J.A.M Holding, Filmpool Nord, Region Gävleborg and private funding.
Download the Feel the Beat Press Kit here