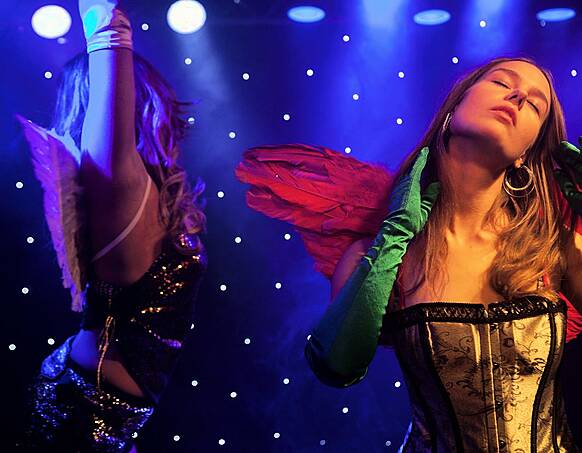 September 13th 2017
REVIEW: Miami Film Review | TIFF 2017

Share this
By Sheri Linden for The Hollywood Reporter
September 12th 2017
A reunion for two long-separated siblings puts them on the road through southern Finland — as nightclub entertainers, and as schemers against a loan shark's deadline.
In Miami, a winding road trip of a slow-burning crime thriller, the exotic-dance gyrations of half-sisters Anna and Angela have a silly, sexy charm. It's the offstage dance between them, and the shifting interplay of affection, admiration, distrust and resentment, that fuels this absorbing journey through genre territory.
With exceptional lead performances by Finnish star Krista Kosonen and Sonja Kuittinen, in her first film role, Zaida Bergroth's third feature (after Last Cowboy Standing and The Good Son) is a compelling double character study. Though its central section could be tighter and its final stretch presents an overload of incident, the story's central duo — especially Kosonen's Angela — cast a spell.
An exotic dancer in her late 20s, Angela is anything but practical-minded, but she's well aware of the ticking clock on a career that once specialized in more "private" entertainment. To launch the Amazing Angels, a be-winged and be-spangled dance act, she has incurred a huge debt. Yet it's the relatively inexperienced Anna, almost a decade younger, who feels the urgency of the ticking clock on Angela's €30,000 loan.
Payment is due in an impossible three weeks, and Anna surprises, scares and delights her sister with an almost absurdly efficient, if borderline reckless, scheme to raise the money quickly, blackmailing some of the well-heeled men Angela parties with. A small-time politician is the first to cough up cash, and eventually the blackmailers stumble into the realm of major-league corruption — involving, paradoxically, a government plan for clean energy.
Through all of this, the two are just getting to know each other. As the story opens, Anna, has tracked down her half-sib not long after the death of their father, who raised Anna and rejected the daughter from his first marriage. At key moments that bitter fact rises to the surface of the story, heightening the sense of uncertainty between the sisters as the screws tighten on their ploy.
But when they first meet, Angela and Anna are mutually dazzled, and after a falling out with her troupe, Angela entices the sheltered Anna to leave her crappy café job and step out of her mousy shell for a tour of provincial nightclubs. After a few lessons under the nighttime lights of a gas station — one of many evocative compositions from cinematographer Hena Blomberg — Anna masters the undemanding choreography and come-hither attitude of an Angels performance. More to the point, she keeps Angela several steps ahead of the tough guys representing kingpin Mertsi (Kristian Smeds), among them a possibly revengeful and surprisingly touching Jakke (Christian Lindroos).
The long-simmering hurt beneath Angela's cheer is apparent in the quicksilver play of emotions in Kosonen's eyes, and the screenplay by Jan Forsström and the director makes poignantly clear that Angela's father was not the only man to disappoint her. This is excruciatingly evident on a detour to visit "the man in my life," played by an excellent Janne Reinikainen. In contrast, a sequence involving Anna's fling with a sound engineer (Alex Anton) doesn't approach the dramatic impact of Angela's meeting with her ex, but it shows that Anna is capable of getting what she wants without feeling used or betrayed.
That's one of the many crucial differences between the two characters, all of them brought to shimmering, unpredictable life by the actors. On the one hand, there's Angela's religious faith and childlike innocence, the wide-eyed dreamer beneath the seeming toughness (probably like many Scandinavians, she's dreaming of warmer climes, and the city she's set her sights on gives the film its title). On the other side of the push-pull equation is Anna's constant strategizing, and the question of whether she's helping her sister or endangering her.
Bergroth orchestrates the rising tension with dollops of Hitchcockian suspense, notably in a sequence involving a dead body and a secluded lake. The director knows how to use silence to up the ante, and Matthias Petsche's score churns with subterranean emotions, an eloquent contrast to the pop froth of the exuberant dance numbers.
At one point, Angela describes a dance routine she's teaching her newfound sister as "a beginning and an end, and we'll improvise in between." The end of Miami may not achieve the intended punch, its pile-up of switcheroos making the final moment more theoretical than affecting. But in between a strong opening and that not-quite-satisfying conclusion, Bergroth and her two fine leads create a compelling glimpse of life as it's improvised — a dance between the muck and the angels, dreaming of more.