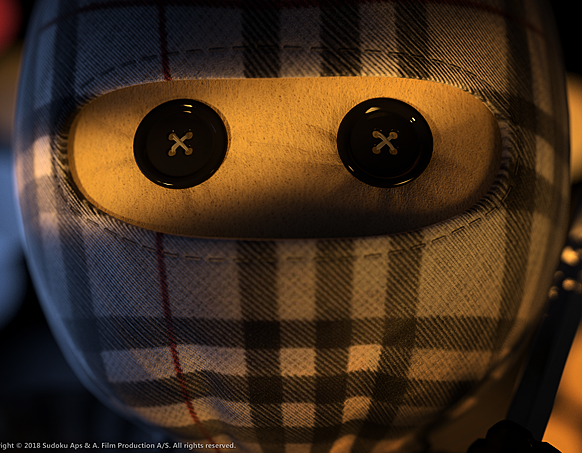 March 7th 2018
LevelK suits up with new animation Checkered Ninja

Share this
International sales and distribution outfit LevelK has picked up world sales rights for "Checkered Ninja" by renowned multi-talented Danish artist Anders Matthesen (Terkel In Trouble) and animation director Thorbjørn Christoffersen (Ronal the Barbarian).
Checkered Ninja is based on Danish Anders Matthesen's first novel from 2016 following the teenage boy Aske, who gets a Ninja doll from his Uncle Stewart after his return from Thailand. To Aske's surprise the doll turns out to be alive but helps him with problems at school and Aske promises to return the favour. However, the checkered ninja is possessed and on a mission to have his revenge.
The film is in production and local release is set for December 25th 2018 by Nordisk Film.
Anders Matthesen is a famous and renowned Danish stand-up comedian, actor and director of the Danish box-office hit "Terkel In Trouble" from 2004. In 2016 he debuted with his first book "Checkered Ninja", after touring with several one-man shows and has acted in numerous films in which he played multiple roles. Thorbjørn Christoffersen co-directed "Terkel In Trouble" with Matthesen, and has directed several popular Danish animation features such as "Ronal the Barbarian" and "The Journey to Saturn".
The film is produced by Trine Heidegaard ("The Incredible Story of the Giant Pear", "Ronal the Barbarian", Journey To Saturn" and "Terkel In Trouble") & Anders Mastrup ("Help! I am a fish", "Journey to Saturn") for A Film Production. The Film is financed by The Danish Film Institute, DR Danish Broadcasting Corporation, Nordisk Film Distribution, Sudoku, A Film Production & Pop Up Production.
Published in Screen Daily on March 7th, 2018. Read the exclusive here