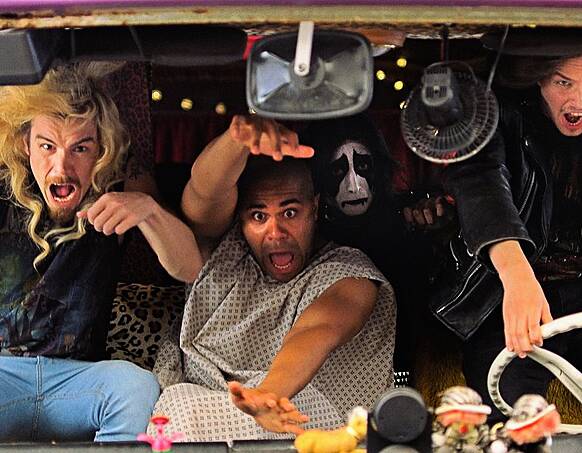 October 2nd 2018
LevelK closes second round of deals for Heavy Trip

Share this
LevelK wraps up a new round of deals for the Finnish heavy metal comedy Heavy Trip that is now making its way to more than 35 countries and celebrating its Spanish premiere at Sitges Film Festival.
The film has recently been picked up for distribution in Taiwan (Cineplex Development), China (DDDream), Portugal (Filmin), and Spain (Twelve Oaks Pictures). Ascot Elite that previously bought the film for Germany has now picked up the film for Benelux as well.
Previously, Heavy Trip was sold to the U.S (Doppelgänger Releasing, Music Box Films) as well as PayTV for Eastern Europe (HBO central Europe).
Produced by renowned Making Movies Oy, the film follows an unknown heavy metal band in a small town in Northern Finland called Impaled Rektum, who has rehearsed for 12 years without ever playing a gig. Lead singer Turo is forced to overcome his fears and lead the band on a wild journey to the hottest metal festival in Norway.
Sales Manager at LevelK, Lauren Valmadre, said: "We're thrilled to be working with international distributors, who share our passion for this utterly hilarious and unique film and that audiences around the world will get to experience the wacky adventures of these lovable Finnish metalheads in HEAVY TRIP."
Heavy Trip will celebrate its Spanish premiere at Sitges International Fantastic Film Festival in the Midnight X-treme section in the beginning of October.
The film is produced by Kai Nordberg & Kaarle Aho for Making Movies Ltd with a budget of € 3,1 million, financed by Finnish Film Foundation, YLE & Film Camp. Scanbox Entertainment released the film locally on March 9th 2018.
Published in Screen Daily on September 26, 2018. Read the exclusive here
Download the Heavy Trip Press Kit here