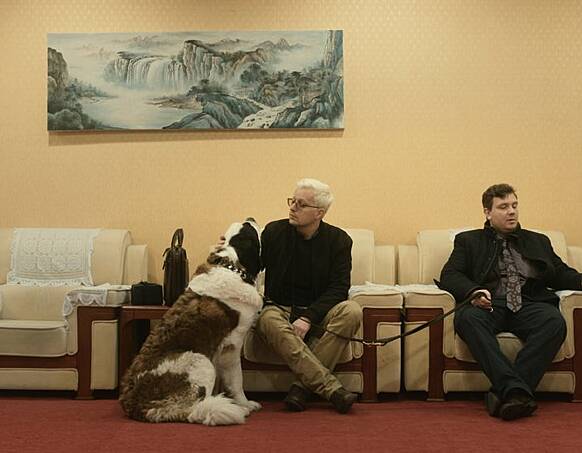 March 13th 2018
LevelK boards Tribeca competition title St. Bernard Syndicate

Share this
International sales and distribution outfit LevelK has teamed up with Meta Film on world sales rights for the feature fiction debut "St. Bernard Syndicate" by former Sundance winner Mads Brügger, making its World Premiere in the International Narrative Competition at Tribeca Film Festival.
St. Bernard Syndicate is a semi-scripted cross-cultural comedy centered around two European entrepreneurs from old-money families setting out on a Chinese business adventure to build a breeding center for St. Bernard dogs to expected great fortune. The film plays out in Chongqing, by some considered the world's largest city and the hub of the Chinese Great Belt project. At the center of the cross-cultural encounters is a 225 lb. St. Bernard dog that everyone loves.
The film is set for local release May 10th 2018 by UIP (United International Pictures).
Renowned journalist and documentary filmmaker Mads Brügger has directed "The Ambassador" (Opening documentary of IDFA 2011, Sundance 2011, awards Prix du JURYJEUNES long-métrage, The ConScience Award, Robert best documentary) "The Red Chapel" (Winner of World Cinema Jury Prize Documentary Sundance 2010 and Best Nordic Documentary 2009). He has also produced satire dock-series such as "Danes for Bush" 2004, TV-programs such as "The 11th hour" and daily Danish news program "Deadline".
The film is produced by Jakob Høgel ("I am William", 2017 and Emmy nominated "Prostitution Behind the Veil", 2005) and Emilie Lebech Kaae ("Swinger", 2015) for Meta Film. The film has a budget of 800.000 EUR and is supported by the Danish Film Institute, TV2 Fiction and in cooperation United International Pictures, Mis. Label, Red Rental, ACT3 and Creative Europe Media.
Published in Variety on March 13th, 2018. Read the exclusive here
Download the St. Bernard Syndicate Press Kit here