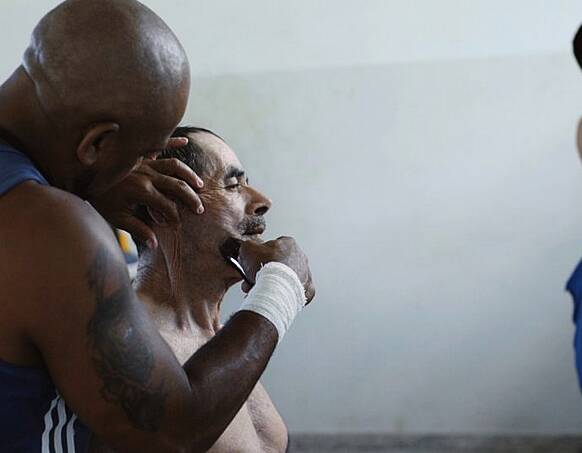 April 13th 2021
LevelK boards new Brazilian doc From Love No One Escapes

Share this
International sales and aggregation outfit LevelK has acquired world sales rights for the Brazilian documentary feature From Love No One Escapes, which depicts the lives of inmates inside a Brazilian jail where there are no guns or guards. The film screens at Visions du Réel market running 14-22 April.
From Love No One Escapes is directed by brothers Julio Hey and Daniel Hey under the joint name Irmãos Ahimsa. Through this label, the two brothers aim, via filmmaking, to promote a culture of self-knowledge and non-violence(which is the meaning of their Sanskrit moniker 'ahimsa'). This is Julio's second documentary feature and Daniel's first.
The film portrays the interior of a Brazilian prison where a humanized system of incarceration, known as APAC, allows for the absence of prison guards and weapons. After becoming volunteers in the prison and residing for more than a month under the semi-open regime, the documentarists recorded daily life behind bars, inviting prisoners and employees of APAC to open their hearts and share their stories and perceptions about life.
The documentary is mostly composed of informal conversations that portray different aspects of the lives of incarcerated individuals, such as spirituality, family life, work, music and the desire for freedom. Through deep conversations, From Love No One Escapes investigates the irrefutable role of love in the recovery and resocialization of human beings that have commited all kinds of crime. The film aims to offer solid and palpable arguments in defense of a more compassionate and humanistic approach to prisoning.
The film is produced by Adriana Tavares for Brazilian outfit Café Royal in co-production with Mario Patrocínio for Bro Cinema (Portugal).
"The idea of a prison that works without guns or any guards, where the detainees themselves carry the keys, provoked us," the directors jointly state. "We wanted to make the world discover this Brazilian prison system that could supposedly surpass standard prisons in several aspects, especially by reducing the rate of recidivism…
"The potential of this project is directly related to the importance of the main topic, 'imprisonment in Brazil'. We urgently need to enrich the debate on this theme, presenting alternative methods of incarceration and resocialization for detainees." Read the exclusive in Business Doc Europe here.
Download the From Love No One Escapes Press Kit here