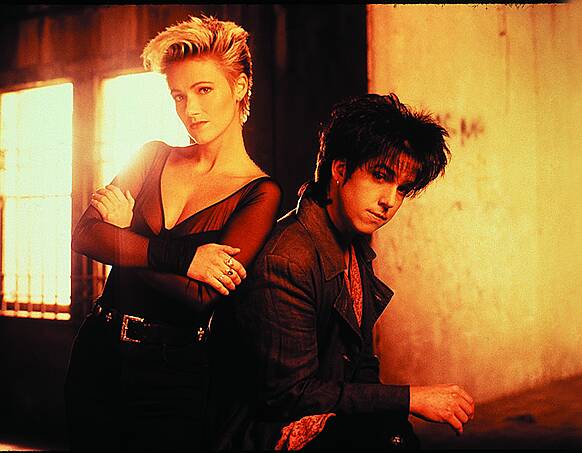 February 4th 2016
LevelK boards Jonas Akerlund's Swedish Pop Docu 'Roxette Diaries'

Share this
Sales outfit LevelK has acquired world rights to award winning director Jonas Åkerlund's documentary Roxette Diaries following one of the 80's and 90's biggest pop bands.
 1986 – 1995 were the magic years and encouraged by Per's wife, Roxette recorded hundreds of hours of self shot video material presenting an intimate portrait and an unique insight into the world of pop life.
All in all I gave about 180 Hi-8/VHS-tapes to director Jonas Åkerlund and asked him if he and his team could do something special with it. Maybe create a movie that captured the spirit of Roxette in the early days as well as being honest, silly and fun to watch. Hey, I think they succeeded. Enjoy the Roxette Diaries." – Per Gessle
 Marie Fredriksson and Per Gessle formed Roxette in 1986 – so celebrating their 30th anniversary this year. 75 million albums sold around the globe. At the time of "The Diaries" they were huge basically in every country in the world with numerous No. 1 positions.
This includes no less than 4 US Billboard No 1 singles; The Look, Listen To Your Heart, It Must Have Been Love and Joyride. They also had several Top 10 singles on Billboard. BMI certificates of over 5 million plays on US radio for "It Must Have Been Love" and 4 million for "Listen To Your Heart". "
It must have been love" was featured in the Pretty Woman movie 1990 and will forever be associated with Julia Roberts leaving Richard Gere on the balcony of Regent Beverly Wilshire…
Roxette have toured the world several times and played for some 5 million people over the years. They are currently on the third leg of the RoXXXette Anniversary tour in South Africa and will play Europe later this summer.  This tour started in Russia in the fall of 2014 and then went on to New Zealand, Australia and Europe 2015.
Roxette Diaries is based on the bands private recordings, directed by renowned Swedish director Jonas Åkerlund (Spun (2002), Horsemen (2009), Small Apartments (2012) and numerous commercials and music videos), and produced by Eva Tempelman. Local distribution is to be handled by Atlantic Film and for the rest of the world by LevelK.