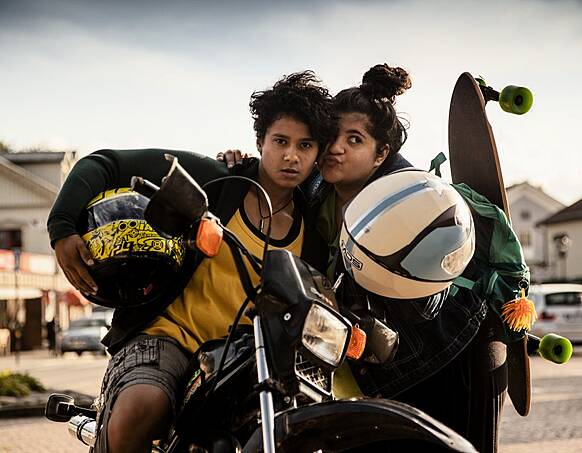 January 15th 2018
LevelK boards Amateurs ahead of EFM (EXCLUSIVE)

Share this
International sales and distribution outfit LevelK has picked up sales rights for Gabriela Pichler's humoristic and engaging Swedish drama Amateurs ahead of the European Film Market. The film is selected for Rotterdam International Film Festival and will open Gothenburg Film Festival.
In the spirit of democracy, local youths are asked to produce a film to promote their hometown Lafors as the council tries to attract the German discount supermarket Superbilly and put the town on the map. But the outcome isn't quite the image of the society that the officials were looking for.
"If just one video clip would define your whole town, which clip would it be? I'm interested in letting this story unfold seemingly as a storm in a glass of water. A sneeze in microcosmos. With humor and subversive twist, a bit of satire with a heart – and a raised fist. Amateurs is a tribute to all of the rebels in our small towns, to the excluded and the unsellable. Your time is now", Pichler expresses.
LevelK will bring the film to EFM next month where it will have a closed market screening.
Amateurs is the opening film of Gothenburg Film Festival and will celebrate its world premiere in the Nordic competition. The film will also screen at the International Film Festival Rotterdam in their live section.
The local premiere is set for March 2018 by TriArt Film.
Amateurs is Gabriela Pichler's second feature film. Her debut feature film Eat Sleep Die premiered at Venice International Film Festival 2012 where it won the Audience Award at Film Critic's Week. Anna-Maria Kantarius produces for Garagefilm. Scriptwriters are Jonas Hassen Khemiri and Gabriela Pichler. The film is financed by SFI, Film i Väst, SVT, Lindholmen Science Park Media Arena and Göteborgs Stad and C More Entertainment.
Published in Screen Daily on January 15th, 2018. Read the exclusive here
Download the Amateurs Press Kit here