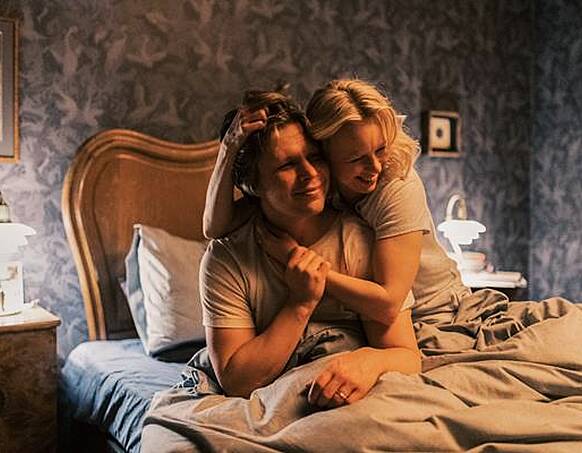 January 30th 2023
'Four Little Adults': Rotterdam Review

Share this
A middle-class couple try a lifestyle of polyamory in this Finnish comedy of manners

Is everyone a winner in a polyamorous relationship? Selma Vilhunen's well-heeled, bittersweet comedy of manners Four Little Adults charts the tangled lives of a married couple seeking to embrace a new way of loving. Thoughtful and amusing, it adds a contemporary twist to what might once have been fertile ground for a Billy Wilder or a Denys Arcand. Questions of happiness, fidelity and fulfilment are handled with fond understanding in a film that should readily seduce grown-up arthouse audiences intrigued by the subject matter.
Rising politician Juulia (a beguiling Alma Poysti) and parish priest Matias (Eero Milonoff) have the perfect marriage. The sex is passionate and adventurous. They support each other's careers and have a fine young son in Miro (Livo Tuuri). What Juulia doesn't know is that Matias has been having an affair with Enni (Oona Airola) for the past eighteen months. The discovery of his infidelity is like a hand grenade lobbed into their lives. Rather than settling for its destructive consequences, however, the incredibly understanding Juulia looks for ways in which it could prove constructive.
Vilhunen effectively establishes the sense of solid security in the lives of Juulia and Matias. Their home is a warm cocoon of patterned wallpaper, designer crockery and ample space. They are affluent and settled with a loving family and friends around them, and it's easy to see why this is a life you would fight to preserve. Juulia is the driving force in a rescue mission, inviting Enni for a civilised chat over coffee and pastries. She dispenses copies of the book 'An A to Z of Polyamory' with particular passages underlined, and suggests an open marriage. The film becomes a bittersweet examination of how that works in practice. Read the full Screen Daily review here.
Download the Four Little Adults Press Kit here