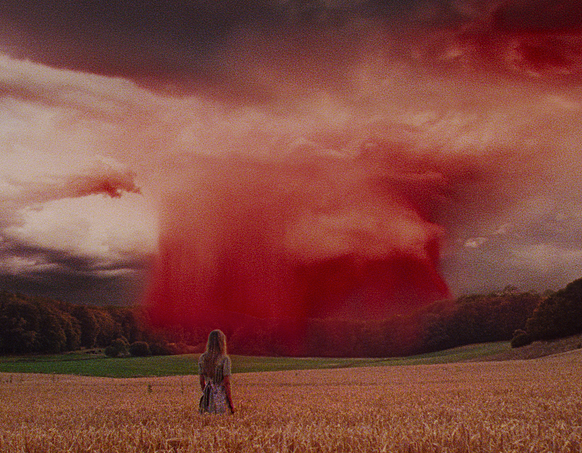 September 11th 2021
'Equinox' Director Tea Lindeburg on Toronto, San Sebastian Buzz Title 'As in Heaven'

Share this
Lise, 14, walks in a cornfield on a sunny day, her pañm brushing its spikes. Suddenly, the sky darkens and a sinister red cloud builds in the distance, moving ominously towards her, then raining blood on her face.
The next day, Lise, the eldest of eight siblings, will become the first in her family to go away to school. But then a dramatic turn of events puts her future in doubt.
Set on a farmstead in late nineteenth century West Jutland in Denmark, "As in Heaven" marks the feature debut of Tea Lindeburg. Sold by Denmark LevelK, it is based on a literary classic, "En Dødsnat" ("A Night of Death"), the 1912 novel by Marie Bregendahl. Its blood cloud opening sequence turns out to be a premonitory dream, as Lise awakes in her bed on the morning of a day that may change her life altogether.
Which in a way seems to be the very point of the film. A buzz title produced by Lise Orheim Stender ("Heartstone") and Jesper Morthorst ("Silent Heart") for Danish production shingle Motor, it world premieres in Toronto's Discovery section before celebrating its European debut in main competition at the San Sebastian Festival.
Lise dreams of going away to school, as women's education begins to become one of the battles fought for by women. But that dream of emancipation is endangered by familial responsibilities as a woman, a challenge still pressing near 150 years after the story.
More than anything else, however, shattering the scenario of a classic period drama, "As in Heaven" rings true as a portrait of young female consciousness,  kaleidoscopic, chaotic, ranging from an eroticism to Lise's sense of own sexual allure, moments of sudden fantasy and a self awareness which sets her apart from the other characters. It builds to a tremendous scene when Lise looks in mirror fully conscious of her future fate.
Variety talked with Lindeburg just before the film's Toronto world premiere.
"As in Heaven" begins with a dream, dreamt by Lise. Though a period drama picturing rural life in 1880s-or-so Denmark, it slips straight social realism, I think, to build as a portrait of a young woman's emerging consciousness  at multiple levels, sexual, social, even of gender issues. Could you comment?
It was never my ambition to tell a straight social realism story. It's not the way I experience or see life. And just as importantly, it's not the way the people living in rural Denmark in the 1800s experienced life either. They believed in signs. And in visions. And in destiny and God. I felt it important to include that whole layer, to try to convey how life was understood back then. Lise's visions are not included in the original novel it is adapted from, these are my own interpretations and an attempt to emphasize why the mother's vision has so much weight in the story. Because what IS a big part of the novel is the mother's dream, and how her vision ends up becoming true. But why it becomes true is up for each one of us to decide on our own. Read full Variety interview here.
Download the As in Heaven Press Kit here