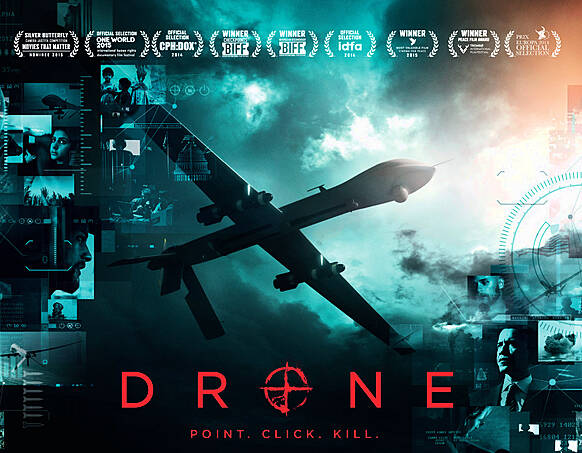 April 10th 2015
Drone selected for special presentation at Hot Docs

Share this
Following on from last years overwhelming attention, nominations and awards, the Norwegian produced documentary Drone has now been selected for Hot Docs Canadian International Documentary Festival. The controversial documentary takes a close and critical look at the robotic revolution in modern warfare and it's human consequences.  
Through the voices of both victims of the CIA drone attacks in Waziristan and US. Drone pilots recruited at gaming conventions to kill people 7000 miles away through their joysticks, the documentary offers absorbing context and new perspectives that reveal crucial secrets of the covert drone war.
"With DRONE I want to challenge the secrecy of the CIA drone war. I am deeply concerned about how the war on terror has become a targeted killing program where people are killed with no due process or justice in an unmanned war without declared battlefields, transparency or accountability."  -  Director Tonje Hessen Schei
Drone will be presented at Hot Docs, North America's largest documentary festival, running April 23rd to May 3rd, as part of the Special Presentations programme - a high profile collection of world and international premieres, award-winners and works by master filmmakers.
Praised as the most important and enlightening documentary on current affairs, Drone is still receiving massive media attention around the world. Yesterday, director Tonje Hessen Schei joined "Drone Zone" on Huffpost live and will be joining CNN and BBC radio mid April.
"This film has taken on its own life since its first screening. The quality and the message of the film has led to a snowball effect that has taken it from the deep fjords of Norway to the most cutting edge international scene on Drones, with massive media attention. The film itself, together with the director Tonje Hessen Schei, has had, and continues to have an emotional and engaging impact on common viewers as well as central players on the international political field. Drone is documentary at its best: it makes a difference."  -  Producer Lars Løge
Drone previously received the "Most Valuable Documentary" award at Cinema for Peace in Berlin 2015, the Best Norwegian Documentary award and Checkpoint Human Rights Award at Bergen International Film Festival 2014 along with the Norwegian Peace Film Award at Tromsø International Film Festival 2014.
It's released in the UK today via Kaleidoscope and is premiering around the world in the near future. Also sold to Australia & New Zealand (Vandetta Films), France (Zylo), Spain (Indigenius), Finland (Yle), former Yugoslavia (Tricontinental Ltd Co.) and Estonia (EESTI). So far screened in all of Scandinavia, France and Germany. For info on available territories please contact us.
Screenings at Hot Docs
TIFF Bell Lightbox 3Fri, Apr 24 3:45 PM
TIFF Bell Lightbox 1Sat, Apr 25 4:30 PM
Bloor Hot Docs CinemaSat, May 2 10:30 AM
Contact and festival participation

Co-producer Jonathan B. Lie and director Tonje Hessen Schei will be participating at Hot Docs with publicist Daniela Syrovy, ClutchPR. To book meetings please contact Jonathan: [email protected]
To get more info on sales and available territories, Marta ([email protected]) will be representing LevelK at Istanbul IFF from April 13th to 17th. Natja ([email protected]) will attend Tribeca IFF and Freja ([email protected]) will be available for meetings at MipTV from April 11th to16th.  For more info go to