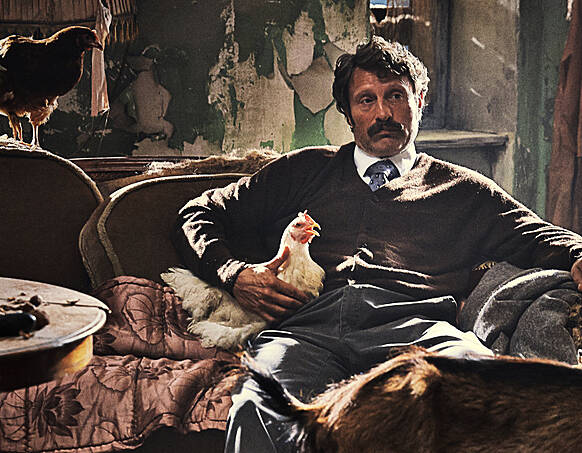 September 11th 2015
Drafthouse picks up 'Men & Chicken'

Share this
Drafthouse Films has acquired North American rights from LevelK to the Danish box office hit ahead of Monday's North American premiere in Toronto.
Anders Thomas Jensen's Men & Chicken tells of two brothers who discover a horrible truth about themselves when they head to an island mansion to meet their estranged father and eccentric siblings.
Starring Mads Mikkelsen ("Hannibal," Casino Royale, The Hunt), David Dencik (Tinker, Tailor, Soldier, Spy, both The Girl With The Dragon Tattoo films), Soren Malling (A Hijacking, Denmark's "The Killing"), Nicolaj Lie Kaas (The Idiots, The Absent Ones) and Nicholas Bro (Nymphomaniac, War Horse), Men & Chicken is a genre-wrenching spectacle that encapsulates all types of comedy, from grand slapstick to biting wit, coalescing in an astounding exploration of "Denmark's most twisted family tree since Hamlet" (Variety).
"We've loved Anders' work since we first saw Flickering Lights," says Drafthouse Films COO James Emanuel Shapiro. "And Adam's Apples is one of the big reasons why Fantastic Fest exists. Its exciting as a fan to work with him on his latest film."
Fantastic Fest, a division of the Alamo Drafthouse Cinemas family, will present the US premiere of Men & Chicken later this month.
"We love to be back with the family of The Fantastic Fest, and to see how Alamo Drafthouse has build their brand over the years. The way the handle Foreign films, just shows that these people love film – so it was a no brainer for us to sell to Drafthouse when the came in with the offer. I'm happy for the film, to be distributed by such a great company". Says Producer Kim Magnusson.
Drafthouse plans a theatrical release of the fim in 2016. LevelK has licensed rights to Imagine Film Distribution in Belgium, Luxembourg and the Netherlands, Vertigo Media in Hungary, Film Europe S.R.O in the Czech Republic and Slovakia and Estin Film in Estonia.
The film is on the shortlist to be named Denmark's official Oscar submission