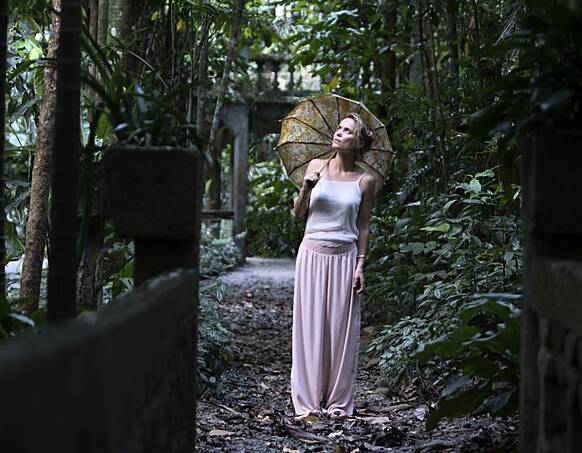 August 10th 2018
Ben Hackworth's new drama scores Danish sales agent

Share this
Multi award-winning production company Unicorn films team up with International sales and distribution outfit LevelK for director Ben Hackworth's second feature film CELESTE, a cinematic tale of desire and redemption.
Headlining a seasoned Australian film crew, the film stars Radha Mitchell (Looking For Grace, Melinda and Melinda), Odessa Young (Assassination Nation, The Daughter), Thomas Cocquerel (Table 19, Billionaire Boys Club), and Nadine Garner (Metal Skin, The Book of Revelation).
Having a strong festival run behind him with several of his films screening at prestigious international film festivals, director Ben Hackworth is ready with his second feature film.
"The idea for Celeste came to me when I discovered an extraordinary architectural folly in the middle of a jungle in tropical North Queensland. The structures and walkways were labyrinthine and dreamlike, reminding me of the passages of the human mind, which the film mimics in its story of a young man as he seeks forgiveness", said Ben Hackworth.
Set in the in the lush, verdant rainforest of Northern Queensland, the film follows Celeste (Radha Mitchell), a celebrated opera diva who retired early from the stage. Now, 10 years after the tragic death of her husband, Celeste prepares for one final performance. Her husband's son Jack (Tom Cocquerel), still haunted by the past, arrives amidst the preparations for the performance and finds Celeste is as he remembered - beautiful, intoxicating and dangerous. But unbeknownst to Jack, Celeste will ask him to perform one last request.
Hackworth continued, "The intensity of the landscape and sheer romance of the dilapidated setting with its dark recesses and mossy facades, also mirrors our heroine Celeste's belief in true love despite her shattered dreams. The characters and their story world is drawn from my own life growing up in an extended artistic family in Queensland."
Hackworth's first feature film Corroboree celebrated its international premiere at Toronto International Film Festival in 2007 and screened at Berlin Film Festival the following year in the Forum Category. The film was also included as part of the Official Selection for Melbourne and Sydney Film Festival. His short film Martin Four was selected for Cinefoundation at the Cannes Film Festival in 2001.
Celeste will celebrate its World Premiere at Melbourne International Film Festival in August.
Lizzette Atkins of Unicorn Films (Looking for Grace) developed the film and is producing alongside Raphael Cocks. The screenplay is written by Ben Hackworth and the late renowned Australian actor, Bille Brown.
The film is financed by Screen Queensland, the Producer Offset and a group of private investors.
Published in Screen on August 10th, 2018. Read the exclusive here
Download the Celeste Press Kit here